When I won NaNoWriMo 2020, I didn't even notice it.
I was banging away at the keyboard, determined to finish the chapter I was in the process of writing. Caught up in the emotional turmoil of my characters and the Winter Wonderland setting of my scene, I lost track of the word count.
Earlier this week, I thought it would be a miracle for me to complete NaNo on time as my daily word count wasn't as impressive as I'd hoped for it to be. I figured I'd do the bare minimum and just inch my way over the finish line on the 30th.
But somehow, at some point, I got sucked into the world of my novel, The Closer. Abandoning my self-doubt and hesitation in a pursuit to write "the perfect final draft", I fully invested myself into the mere act of writing and allowed my characters to breathe freely.
What followed was a huge jump in my daily word count and next thing I knew, I was right up at the finish line.
While taking a break to hydrate and stretch out my arms, I glanced over at the clock. The time read 11:57 P.M.
"Welp! Time to update that word count!" I thought and raced to the NaNoWriMo site, quickly inputting my current session's count. The page refreshed and I was looking at this: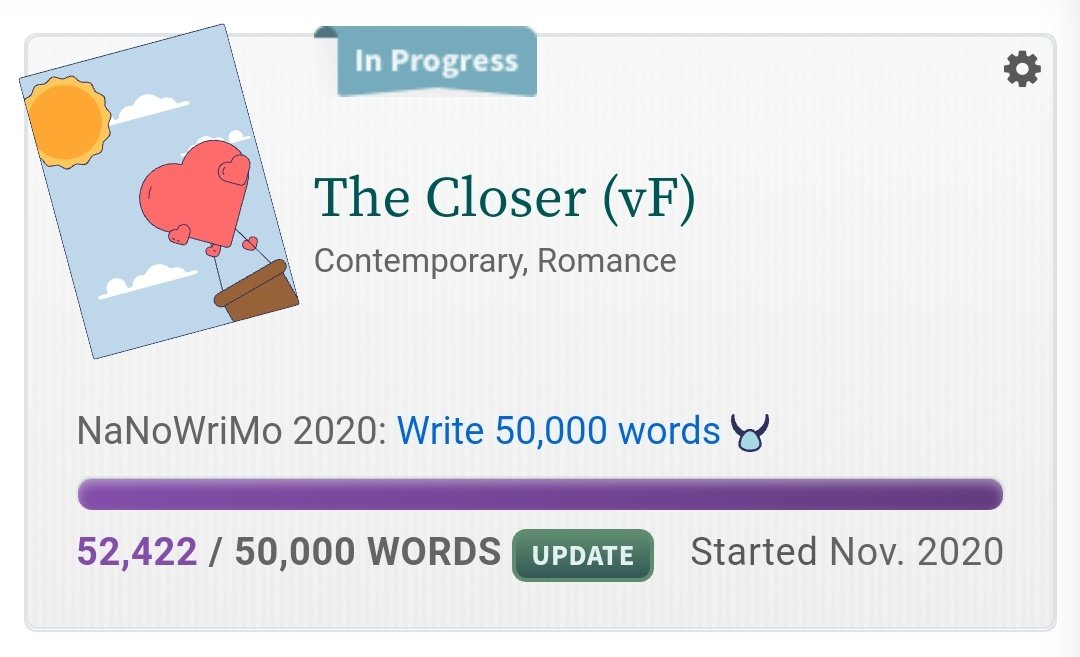 I stared at the screen, slack-jawed. How…what…when?
The notification popped up at the top right corner of the screen and before I knew it, I was watching the NaNoWriMo 2020 victory video play out, still in a state of shock that I'd actually done it.
This year has been challenging on many counts and this month, especially so. Finding the will to write again, reigniting my passion for a manuscript I've been working on over five years and taking more serious steps toward fulfilling my literary goals is what this NaNoWriMo's been about.
The 50k for me doesn't just symbolize the sweat and tears I've poured into writing this past month, but all my life. To pick myself up from the ground and keep believing in my writing, in my resilience to make a goal and stick to it; that's what I'm proud of.
I still have a long way to go before I accomplish the goals I've set for my writing career. But it's important to take a moment to recognize and celebrate these milestones along the way.
Thank you NaNoWriMo 2020 for giving me the opportunity to renew my passion in writing again. I will take this victory in stride and pave the way for greater ones.